Despite our summery Thanksgiving weekend in Atlantic Canada (temperatures over 25 degrees C for most of us), this week has brought us back to reality and with it, some glorious, but definitely cooler days. Just the kind of weather to gather folks around the table for an easy to put together, long-simmered, tempting pot roast and "yummy as candy" roasted local vegetables. Like the ad used to tell us, "Mmm, Mmm, Good!".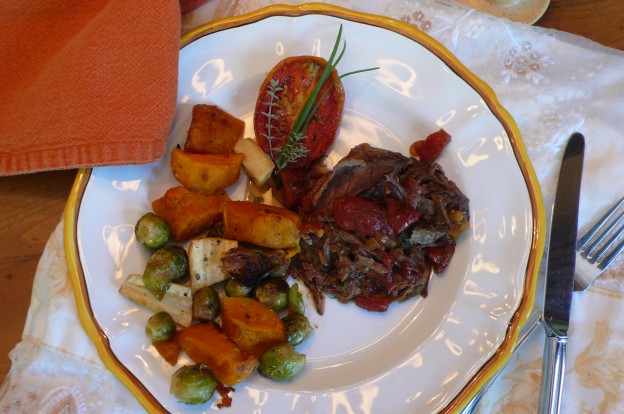 I started with a 2 1/2 lb. boneless cross rib roast, on the smallish side, but with only three of us eating, plenty for dinner and plenty of leftovers! I had slow roasted some plum tomatoes a few days earlier and decided to use those instead of sun-dried (either would be good), and relied on some beautiful Herbes de Provence to provide wonderful flavour.
Browning the roast prior to putting in the oven holds the key to a richly flavored finish. I didn't use flour in the browning, just glugged some olive oil into the pre-heated pan, seasoned the roast with plenty of salt and pepper and browned it for 4 -5 minutes on each side until it was beautifully colored. Dredging the roast in flour first might thicken the sauce more, but we enjoyed it regardless!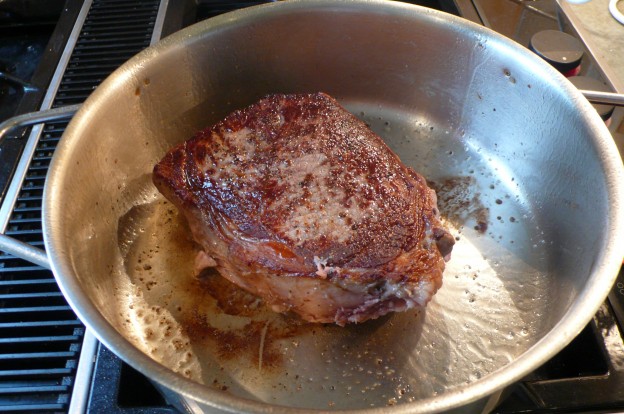 Remove the roast and place in a roasting dish or oven-proof casserole, which will hold it fairly snugly, otherwise the liquid may evaporate too quickly in the oven. Slice the onions, chop the garlic and add to the saute pan to soften, sprinkle with the Herbes de Provence, the chopped tomatoes and stir together for about a minute.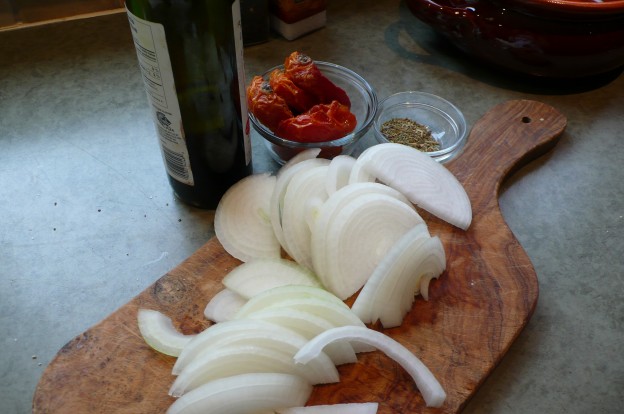 Then add some stock and a small amount of white wine if you have it and scrape every last brown bit off the bottom of the saute pan – this will only take a couple of minutes but will add incredible flavor to the pot roast. If you don't have white wine, use more stock, about a cup of liquid in total, and add a bit of balsamic vinegar to this mixture before pouring over the roast.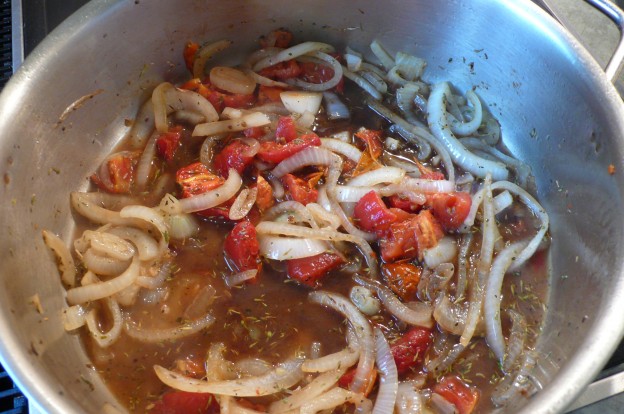 Pour over the roast, cover, and roast in a fairly slow oven for 3 – 4 hours, checking part way through to see if you need to add more stock. I find this depends on your casserole dish as much as anything. The roast should be tender but will still slice fairly well, when done. Remove the roast and let it rest while you mash some potatoes or roast your favourite fall vegetables in a hot oven for about 30 – 35 minutes – I really vary how I do these, sometimes on a metal cookie sheet, sometimes in a glass lasagne pan, sometimes they're crispy, sometimes they're softer, they're always browned and flavourful, we usually fight over them, but hey, that's what families are for.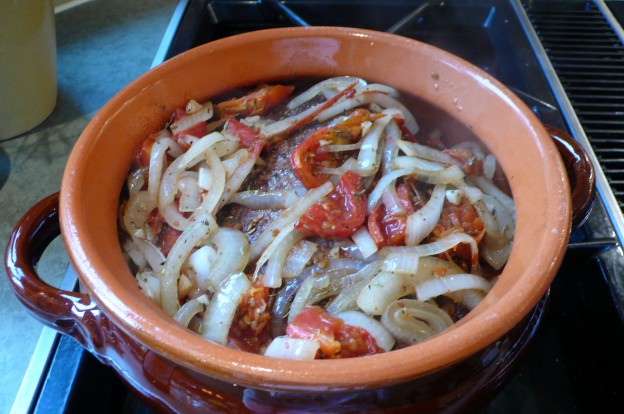 I roasted butternut squash, sweet potatoes, parsnips and brussel sprouts (don't knock 'em 'til you've tried them roasted!), but you can roast any other favorites, the roasting brings out the sweetness and they taste totally different than steamed or boiled. Wash, peel if necessary and cut your vegetables into similar sized chunks for the sweet potatoes, parsnips and squash, halve your brussel sprouts, put on your pan of choice, drizzle with olive oil, salt and pepper. 30 – 35 minutes at 400 degrees should do it but if they don't seem to be done, leave them a little longer, but watch closely. If your brussel sprouts are small, add after the others have been roasting about 15 – 20 minutes or they may burn. Enjoy and good eating!
Autumn Pot Roast
2 1/2 - 3 lb.

boneless cross rib, or other pot roast

1

onion, halved and sliced

2

garlic cloves, sliced

1 Tbsp

Herbes de Provence

1/2 cup

oven roasted or sun-dried tomatoes, chopped

3/4 - 1 cup

beef stock

1 Tbsp

balsamic vinegar

1/4 cup

dry white wine

salt and pepper

2 Tbsp

olive oil
Cooking Directions
Season meat well with salt and pepper on all sides.
Preheat oven to 325 degrees.
Preheat medium-sized frypan, add olive oil and brown meat well, about 4 - 5 minutes per side.
Remove roast, leaving drippings in pan, and place roast in oven proof casserole.
Add onions and garlic to frying pan, and stir over medium heat about 1 - 2 minutes, until softened and sprinkle with Herbes de Provence.
Pour in 3/4 cup of the stock and all of the wine, and using wooden spoon, scrape up all of those browned bits from the bottom of the pan, this should take no more than 2 - 3 minutes.
Add balsamic vinegar and stir.
Pour over roast in casserole, cover and roast for 3 - 4 hours, checking after 1 1/2 hours to see if you need to add more stock.
The roast will be fork tender when done, but not falling apart.
Serve with roasted vegetables or mashed potatoes, if you prefer.