Here's a simple, yet tasty, childhood favourite of my oldest son's – Alex (aka Marathon Man after running his first marathon in Toronto last weekend) used to love this dish and always called it "lemon" chicken, despite the fact there was no lemon in it! Probably it reminded him of all those wonderful Chinese restaurants we used to visit in Vancouver when he was little. As salutation to and in celebration of his achievement (first marathon in 3 hr. 28 min.), I ran to the kitchen and made his beloved chicken dish, even adding a little grated lemon rind and Italian parsley to bring it into the here and now. You can pull together a few ingredients and put this together for young and/or old – my kids all loved this growing up – add some rice and veg and dinner is on the table in under 45 minutes.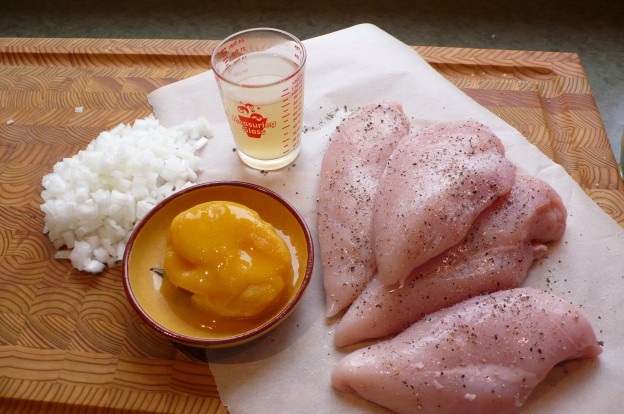 What you see here is pretty much it – yes, I added some parsley and lemon rind but that's only because Alex is grown up now and I know he can handle a little improvisation. But if you, your partner, your kids are fussy, leave them out and stick to onions, orange juice concentrate (the "lemon" from Alex's youth), chicken breasts and chicken broth. Easy peasy!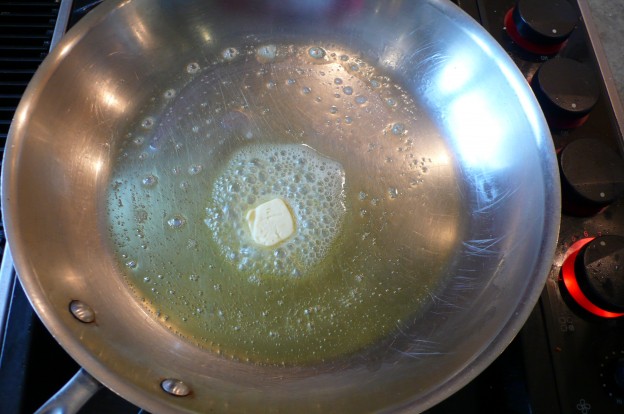 Start by browning the chicken breasts in olive oil and butter – heat the olive oil first, then add the butter. The olive oil keeps the butter from burning and the butter just adds deliciousness! Brown the chicken on one side, four to five minutes until nicely browned. When the chicken releases easily from the pan it's ready to turn.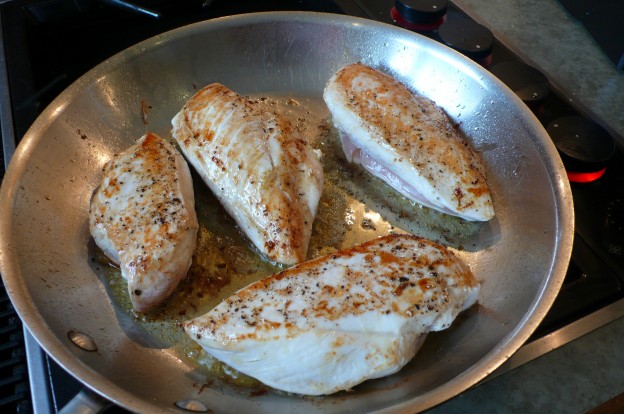 Turn the chicken and add the chopped onion, tucking it in around the chicken breasts so it can soften.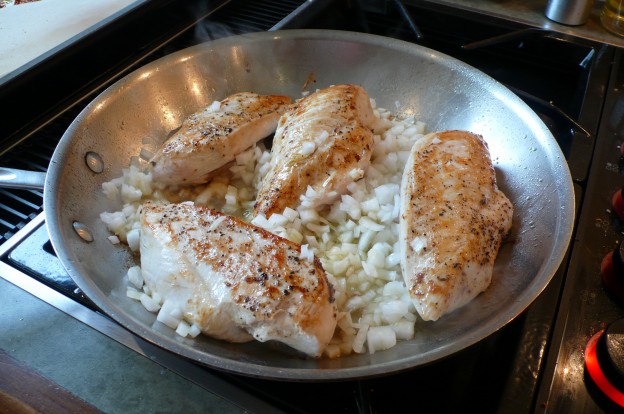 Then add the orange juice concentrate, thawed or frozen, either works as it will melt very quickly in the hot pan, and the chicken broth. The proportions of oj concentrate to chicken broth are the same and you can adjust them depending on whether you like lots of sauce or only a little.
Cover, turn the heat to low and simmer until chicken is no longer pink and cooked though. The sauce should be almost a glaze, so if too thin, remove the chicken and turn up the heat to reduce the sauce until syrupy. Spoon sauce over the chicken to serve and sprinkle with parsley and lemon rind if you wish. It doesn't get much better or easier than this!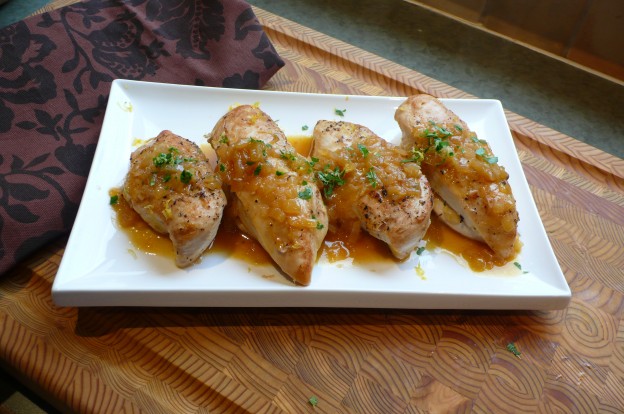 "Lemon" Chicken
4

chicken breasts, boneless, skinless

1/2 cup

onion, finely chopped

1/3 cup

orange juice concentrate, thawed, not diluted

1/3 cup

chicken broth

2 Tbsp

olive oil

1 Tbsp

butter

1 Tbsp

Italian parsley, finely chopped

1 Tbsp

lemon rind, finely grated
Cooking Directions
Season chicken with salt and pepper.
Heat oil in medium frying pan over medium high heat and add butter.
Brown chicken on one side for 4 - 5 minutes, until golden brown.
Turn over and brown 2 - 3 minutes, then add onion and cook for 3 - 4 minutes, until onion is softened.
Add orange juice concentrate and chicken broth, cover and simmer over medium low heat for 15 - 20 minutes, until chicken is no longer pink and cooked through.
If sauce is too thin, remove chicken and keep warm, turn up heat under sauce and reduce until syrupy.
Serve chicken with sauce and sprinkle with parsley and lemon rind if desired.