The plan is for November to be pretty much Cake Month – there's Baby Sister's birthday on the 1st (she turned 50 two days ago in case you missed that post!), my own next week (don't listen to everything she says about me being older, even though she is my favourite younger sister, FYS), and then cakes to start planning and making for Christmas. So those of you nurturing your sweet tooth, stay tuned.
But in the interest of good health and balanced living, I'm offering my favourite older sister's(FOS) Sweet Potato Chili, which I usually make to have on Meatless Mondays or any other day of the week when we think we should go vegetarian, but today I decided to add some diced chicken breast near the end of the cooking time; trust me it's just as good without. FOS advises that you could also add ground beef or ground turkey instead of the diced chicken breast. Either way, this has just a few ingredients, cooks quickly, keeps and freezes well!
My good husband brought me the fancy spices in the cans from London, wonderful Mexican oregano and rich diced chipotle chiles; http://www.coolchile.co.uk. They have a wonderful website – have a look – and I have inquired but unfortunately they don't ship to Canada, so when my can is empty I will either have to go back to London or find a source in Halifax!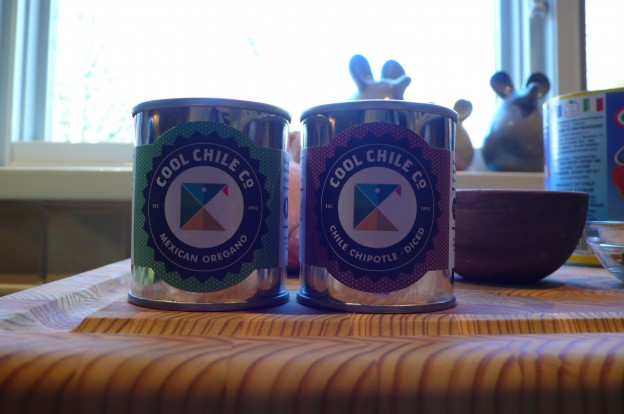 Back to the chili; saute the onions, garlic and spices in olive oil until nicely softened, this may take about 5 – 7 minutes in total. I usually start on medium heat and switch to low, stirring occasionally. In addition to the chili powder called for in the recipe I added 1/2 tsp of the diced chipotle chiles and used the Mexican oregano, rubbing it between my palms, over the pan, to release more of the fragrance (based on a tip given to my husband by the seller of these herbs).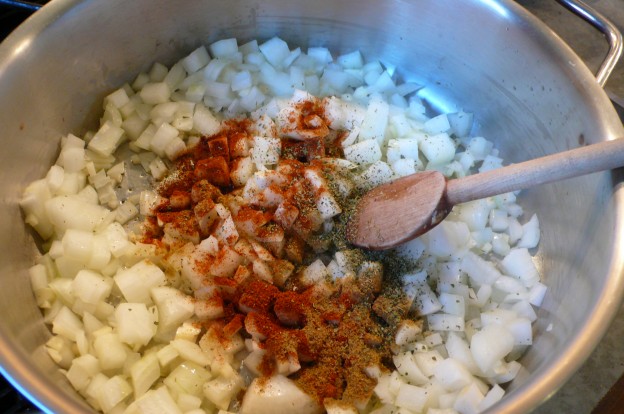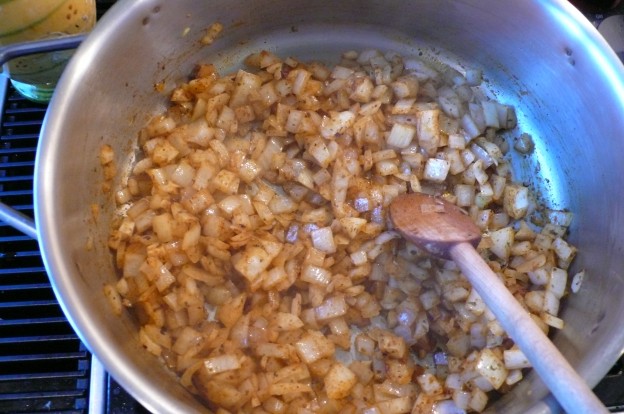 Add the peeled and cubed sweet potatoes, drained and rinsed black beans and diced tomatoes, stir gently but well to combine and bring to a boil. Turn heat to low and simmer until potatoes are tender.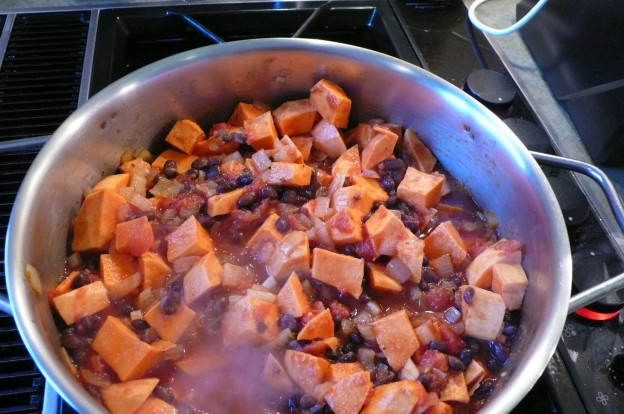 At this point, provided the sweet potatoes are tender, this chili is ready, but if you want to add some animal protein to it now would be the time. I browned two boneless chicken breasts, seasoned with salt and pepper, in a couple of tablespoons of olive oil, diced them and added them to the chili to finish cooking. This took another 10 – 15 minutes. I also deglazed the chicken saute pan with a bit of chicken stock both to recover all of the yummy browned bits on the bottom and to add a little more liquid to the chili.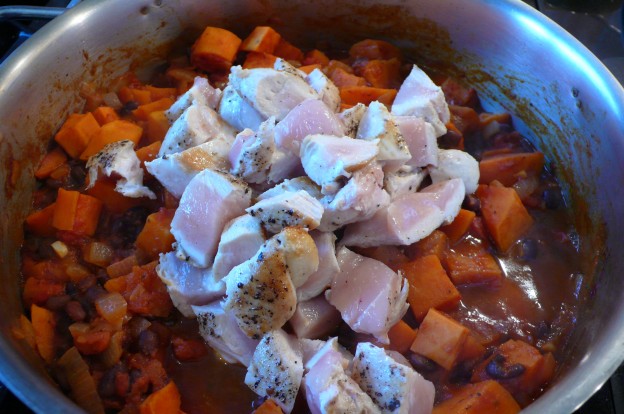 Here are the browned, but not cooked chicken breasts being stirred into the chili. When the chicken was done I topped the Sweet Potato Chili with a spoonful of sour cream and a sprig of cilantro. Delicious, next time I might use a full teaspoon of the chipotle chiles!
Sweet Potato Chili
2 -3 medium

sweet potatoes, peeled and cubed

2

onions, chopped

3 cloves

garlic, minced

1 Tbsp

chili powder

1 tsp

oregano

1 tsp

cumin

28 oz. can

diced tomatoes

19 oz. can

black beans, rinsed and drained

1/4 tsp

salt

2 Tbsp

olive oil
Cooking Directions
Saute onions, garlic, chili powder, oregano and cumin in olive oil.
Cook over medium heat for two minutes, stirring often, then turn to low and cook, stirring occasionally, for 5 minutes, until onions are softened but not browned.
Add tomatoes, beans, sweet potatoes and salt and bring to a boil, stirring often.
Reduce heat, partially cover and simmer on low for 30 - 40 minutes until sweet potatoes are fork tender.