Toney River, a little piece of paradise on the north shore of Nova Scotia where family gathers every summer in our cottage to wind down, catch up, rejuvenate and share lots of good food, is fertile ground for kitchen creativity. Searching the pantry one sweet summer day, I found fresh garlic scapes from the nearby Tatamagouche Farmers' Market and built a simple and satisfying pasta sauce using some of our favourite flavours – garlic, tapenade, capers and basil, anchored by plum tomatoes. What the heck is a garlic scape, you ask? Well, they look like this…
Available seasonally before the garlic bulb ripens, and with a distinct but mild garlic flavour, garlic scapes, according to 2 Sisters Garlic,  http://www.2sistersgarlic.com, "are the flower stalk of the garlic. The entire stalk and flower are edible. With mild garlic flavor and aroma they are wonderful additions to stew, roasts, marinade, salads, sandwiches, sauces, bread, pasta, pesto, stir-fry, roasted, or even steamed and eaten as a vegetable. The possibilities are endless! "
So, why write about garlic scapes in November, when my loyal blog readers can't find them? Well, think of me as proactive or think of me as succumbing to intense pressure from my family to post this recipe! And because when garlic scapes aren't available, I just use more garlic cloves and dream of next summer at Toney…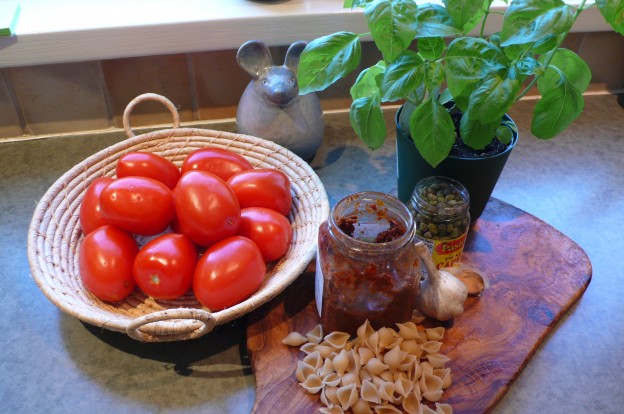 Start by washing and chopping your plum tomatoes and measure your capers and tapenade. Tapenade is a condiment made from black olives, garlic, capers, herbs, and olive oil and President's Choice makes a great one, available in Canada – it's also good on crackers or as a spread.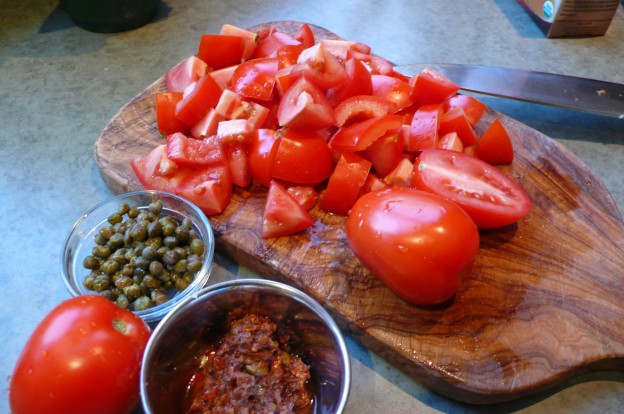 Next, saute chopped onion in a little olive oil and add the chopped garlic. Once softened, I add all of the chopped tomatoes and cook over medium high heat until the tomatoes release their juice. Plum tomatoes tend to be less juicy than regular tomatoes, you could use regular in this recipe but may need to cook longer until you achieve the right consistency.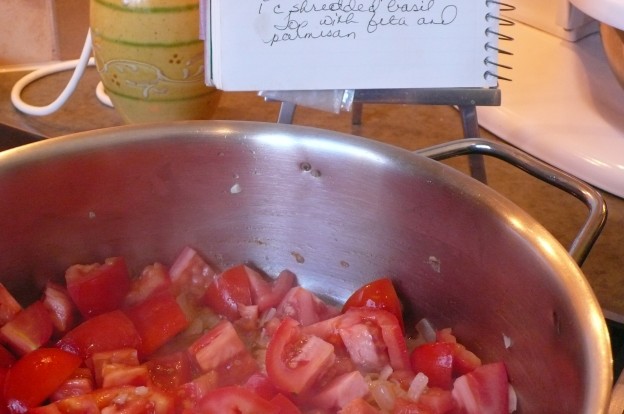 Cooking the sauce until most of the liquid from the tomatoes has evaporated, concentrates the flavours, then chicken broth is added and the sauce reduced twice more over medium high heat. These extra steps result in sauce with a very creamy finish and intense flavours.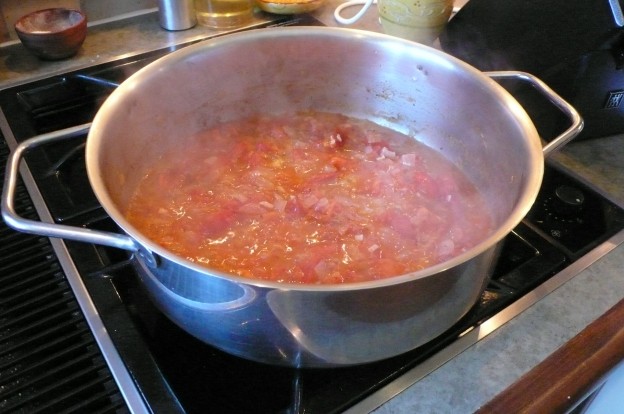 Roll the basil leaves together and slice into strips, and put the pasta water on to boil. We prefer rice pasta, and this time had shells, penne and orzo shapes so used them all for an interesting finished dish! You can use your favourite type of pasta, I've also made this with spaghetti and the results were just as good.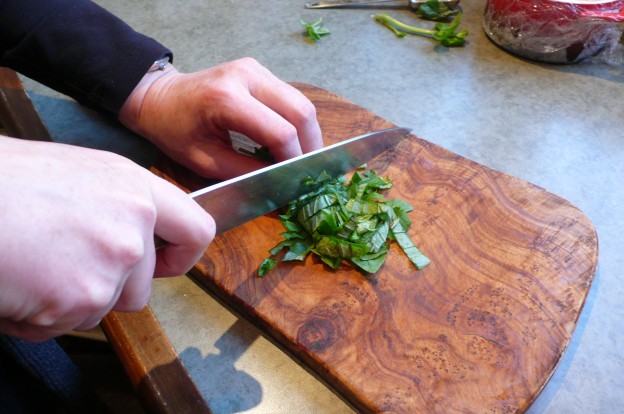 Another key step to this dish's success is using some of the pasta cooking water to finish the sauce. Just scoop out about a half cup of cooking water towards the end of the pasta cooking time and reserve for later. Drain the pasta and add to the pan of sauce, tossing to mix, adding the shredded basil and using only as much of the reserved pasta water as necessary to give a creamy sauce. Top each serving with some crumbled feta and grated parmesan and enjoy!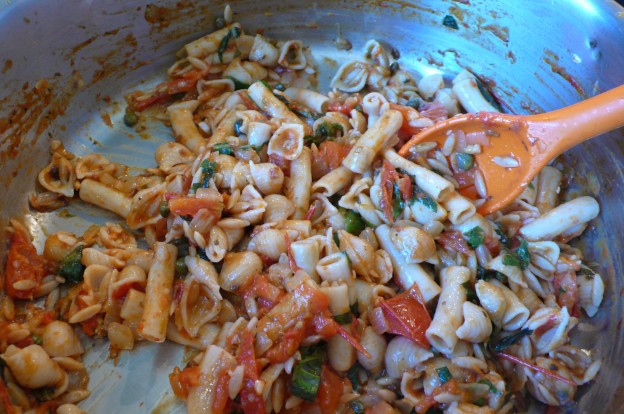 Toney River Pasta
1

onion, chopped

4 - 6 cloves

garlic

1 cup

garlic scapes, chopped (if available)

6

plum tomatoes, chopped

1 tsp

Italian seasoning

1/2 cup

chicken stock, low sodium

1 tsp

honey

2 Tbsp

tapenade

2 Tbsp

capers, drained

1 cup

basil, shredded

1/2 cup

feta cheese, crumbled

1/4 cup

parmesan cheese, or to taste

2 Tbsp

olive oil
Cooking Directions
Saute onions, garlic (and garlic scapes, if using) in olive oil over medium heat until softened, but not browned.
Add chopped tomatoes and Italian seasoning.
Cook 5 - 7 minutes, until tomatoes release juice and most liquid is cooked off, then add 1/4 cup of chicken stock and reduce until sauce is almost dry.
Add remaining chicken stock and cook for 3 - 4 minutes, then add honey, tapenade and capers, cooking until sauce reaches desired consistency.
Cook pasta of choice in boiling water, reserving 1/2 cup of cooking liquid before draining.
Add drained pasta to saucepan and loosen with reserved pasta water, adding in small amounts and only as much as necessary to achieve desired consistency.
Add basil and stir well.
Top each serving with feta cheese and parmesan to taste.