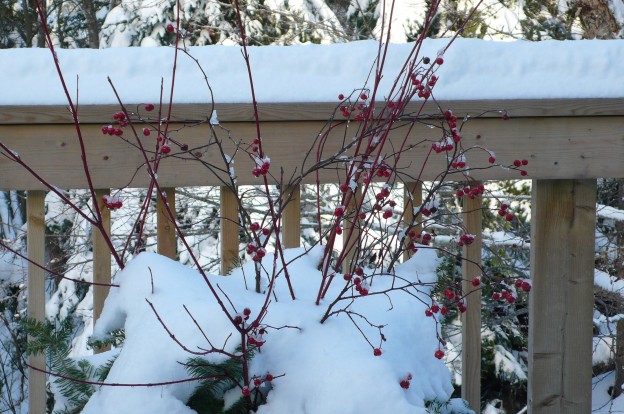 Good news – Lochie the Sheltie Wonder Dog is virtually fully recovered and thriving on the homemade chicken breast and steamed rice meal plan I've been preparing lovingly for him. For those who missed my recent post, his run-in with a bag of organic dark chocolate and roasted salted cashews has had minimal negative effects and he's back to his usual self. This happened in the middle of our November 24th, 40-year record breaking snowfall which has launched us into winter in Nova Scotia! Inspiration can come in many forms and out of a desire to nourish and at the same time celebrate Lochie's return to normalcy, I crafted this shepherd's pie – which should be a nod to his heritage, but my husband says it best about our lovable but not so brilliant Sheltie, "he would have flunked shepherd school!".
I've made shepherd's pie before using leftover roast and plain hamburger, but today decided a mix of ground beef and ground turkey would not only be healthy and tasty but provide enough that I could freeze some extra portions for later. Always handy when three of us are feeling like fish and the carnivore in the family wants something else! I have these tucked safely in the freezer now and will probably bake them from frozen, at 350 degrees. Suggest starting them covered loosely with foil for the first half hour and then leaving uncovered for another 30 – 40 minutes – great opportunity to experiment.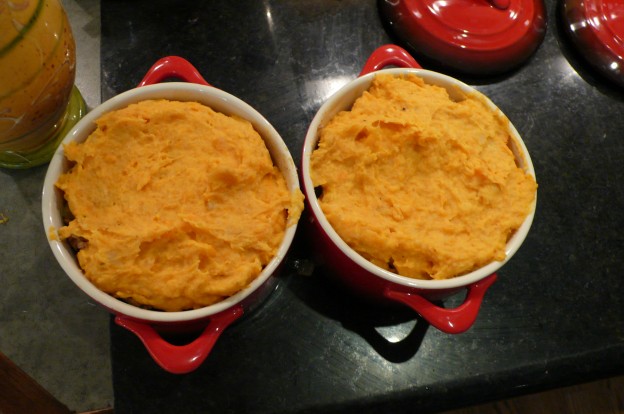 Look at that beautiful topping, the result of mashing together sweet and russet potatoes, using a little more sweet than white, healthy and tasty. Many ingredients come together quickly and easily and I think you can adapt this recipe to suit your tastes, use more or less carrots and celery, add some parsnips, chopped to the same size. Once the meat has browned, add the chopped vegetables, cook briefly and then the sauce ingredients.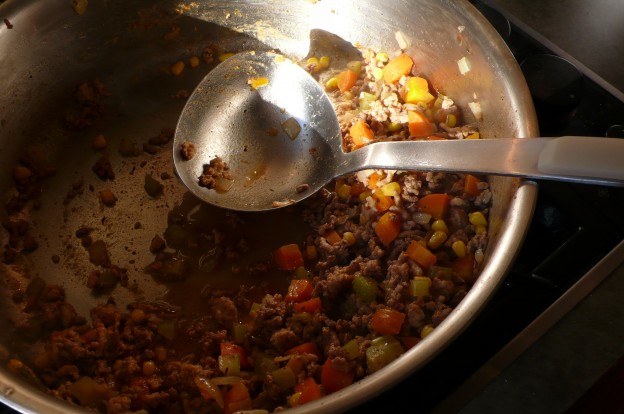 I steamed the potatoes together but you could boil them, I cut the white potatoes slightly smaller than the sweet as I find that sweet cook a little more quickly, you could use all sweet potatoes or all white if you prefer.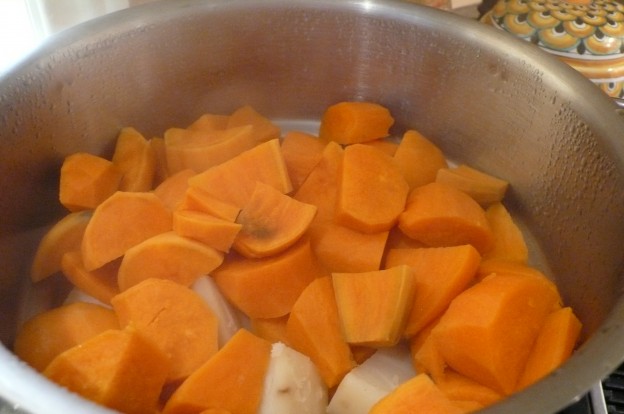 I mashed the potatoes with cream cheese, sour cream and butter both for extra creaminess and because this allows them to freeze beautifully. This recipe does have a lot of ingredients but it comes together quickly and is loved by my family! Enjoy and Take Good Care!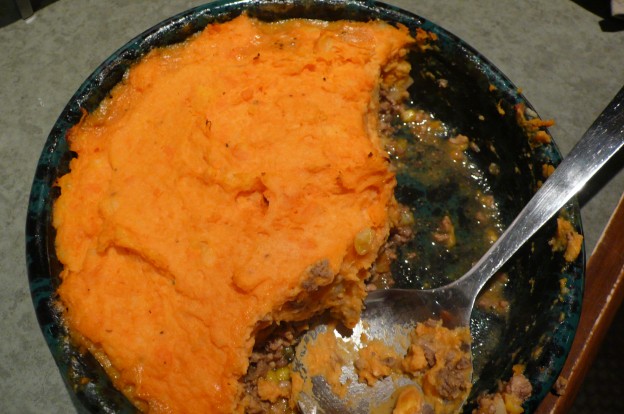 Snow Day Shepherds Pie
1 lb

ground turkey

1 lb

ground beef

3

carrots, chopped

4

celery stalks, chopped

1 large

onion, chopped

2 large

sweet potatoes, large chunks

2 medium

russet potatoes, large chunks

1/2 cup

chicken broth

2 Tbsp

Dijon mustard

1 - 2 tsp

Worcestershire Sauce

1/4 cup

Ketchup or barbecue sauce

1 tsp

oregano

1 tsp

thyme

1 tsp

garlic powder

1 cup

corn, frozen or canned

2 Tbsp

butter

125 g

cream cheese, softened and cubed

1/4 cup

light sour cream

salt and pepper
Cooking Directions
Steam potatoes over boiling water until tender, 15 - 18 minutes or boil if you prefer.
Brown ground turkey and ground beef, draining fat if necessary.
Add onions, carrots, and celery and cook 5 minutes, stirring often.
Add chicken stock, mustard, Worcestershire and ketchup, stir and bring to a boil, turn down and add spices and corn.
Taste and add salt and pepper, then simmer 5 minutes.
Place in baking dish.
Mash potatoes with butter, cream cheese and sour cream, adding salt and pepper to taste.
Top meat mixture with potatoes, and bake in preheated 350 degree oven for 30 - 40 minutes, until top is beginning to brown and pie is bubbling around edges.
Let rest 5 minutes and serve with a green salad.