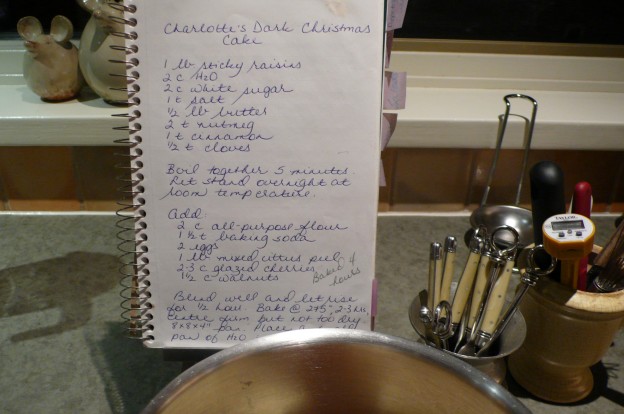 Christmas is a time to count your blessings and I am very fortunate to be blessed with many special people in my life – my own family, my sisters and brother and many dear friends. One of my greatest blessings is my sister-in-law Charlotte, who has been a wonderful support and friend over the years, I love to sit at her table and she willingly shares her favourite recipes, including this one for Dark Christmas Cake. What is it about people who don't like fruitcake? Can you trust them? Okay, just kidding, but really, there's something so comforting to me about a good cup of tea and some of this incredible cake. With relatively few ingredients, this is the easiest fruitcake I've ever made, this year I didn't even chop the cherries or nuts, just threw them in whole. Also, because it calls for only a few types of fruit and one type of nuts it's a reasonable investment, cost wise!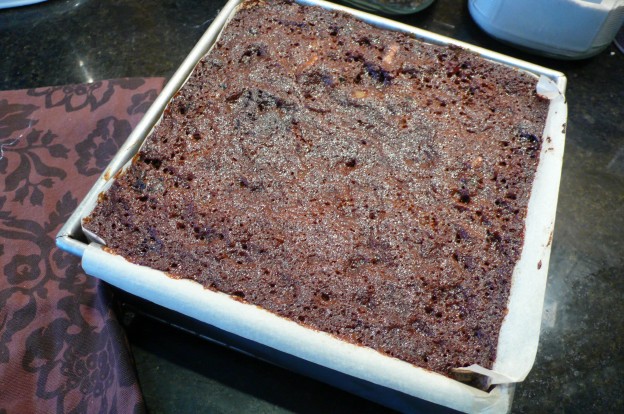 Making this cake does require some planning, as the base is mixed, briefly cooked and left overnight at room temperature, but unlike many fruitcakes, this doesn't require weeks to ripen. I have stored it wrapped in brandy-soaked cheesecloth before, but that isn't necessary either, although it may be more fun. Start by mixing the raisins, sugar and butter with water and spices and bring to a boil for a brief time, then just cover and let it sit overnight. The recipe calls for sticky raisins and this year I used lexia raisins, but usually buy whichever ones look the stickiest at the bulk store.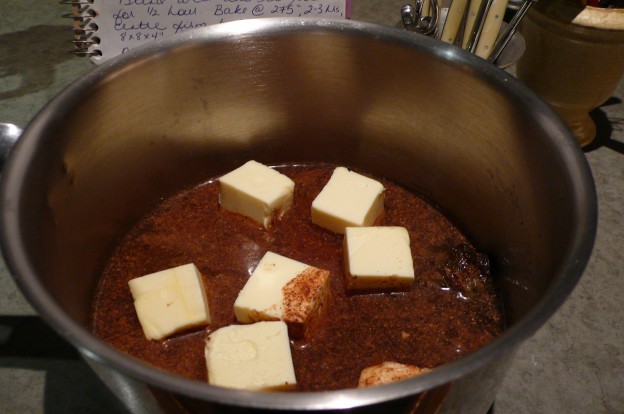 Next morning, put on a pot of coffee and don't do anything until that's ready. Now, pour yourself a cup, add whatever you need to function and drink at least half. Okay, now you can proceed. Add the remaining ingredients, the dry ingredients and the fruit – chop the cherries and walnuts if you prefer but you can see that I didn't. You can also choose to use all red or all green cherries or mix them like I did.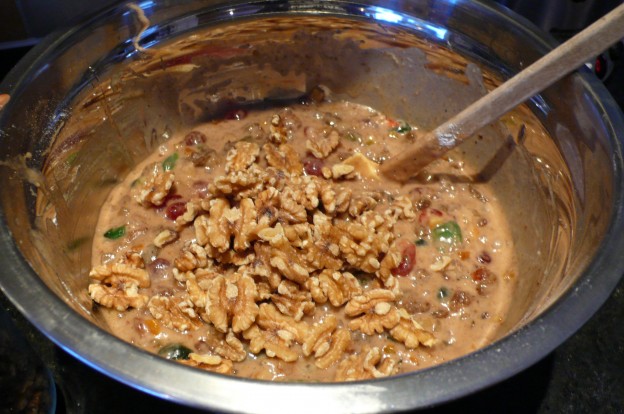 Then, let the cake sit in the bowl and rise for about a half hour.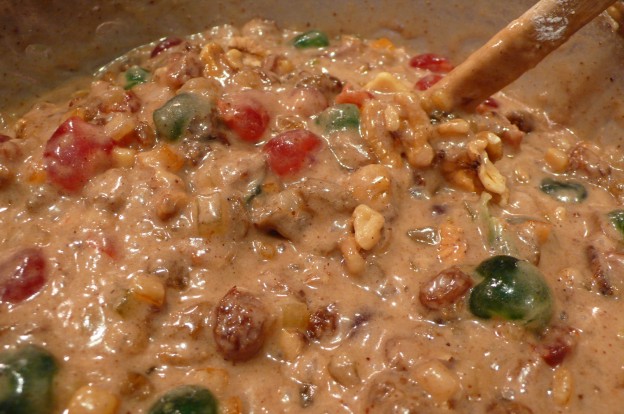 Meanwhile, pour more coffee and then prepare your pan. I bought a special pan several years ago (one can never have too much cookware), mine is 8 inches square by 3 inches deep. I grease it lightly and line it with parchment paper, greasing it first keeps the parchment paper from slipping.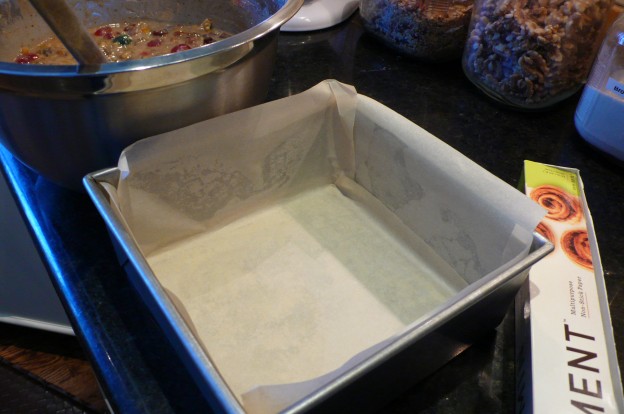 Pour the batter into the pan and place in a low oven, along with a pan of hot water and bake. Charlotte's recipe calls for baking the cake for 2 -3 hours, but I have always cooked mine for about 4 hours, which certainly confirms that ovens vary considerably. So be patient and plan to spend the morning at home! What's important is that the middle of the cake is firm to the touch when you take it out of the oven, but the cake isn't too dry.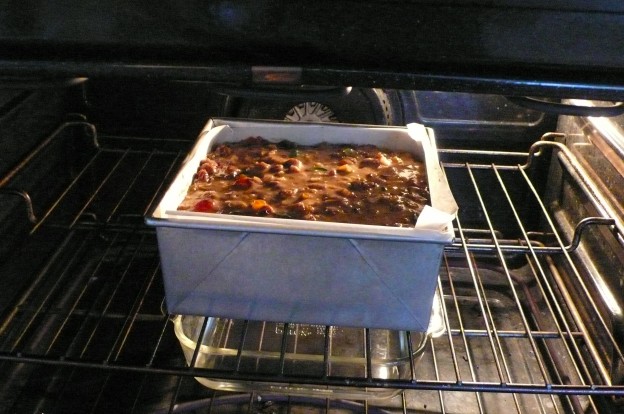 Cool in the pan on a rack for an hour or so and then remove from pan to cool fully. Double wrap in plastic wrap and store in a large container for a couple of days.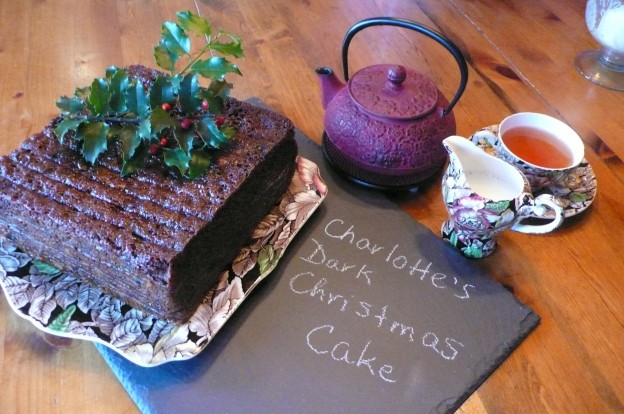 I cut the cake in half for storing and to give some away. This makes a large cake which good for sharing, each half is the size of a loaf pan. Charlotte usually freezes some of hers, mine doesn't last that long or I forget to freeze it, but I have kept it for several months in a covered container.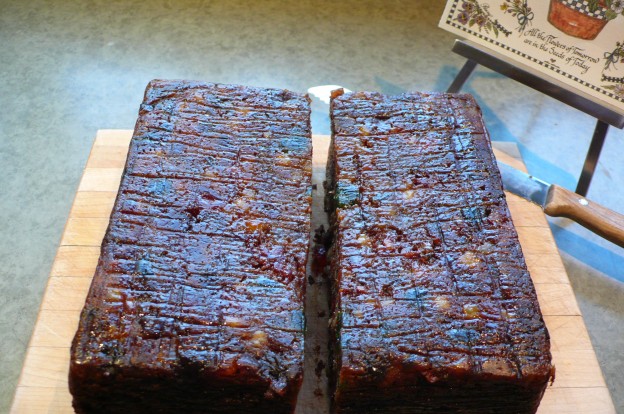 And once you've cut it in half, I recommend tasting the cake to ensure the quality is up to snuff, you may need to have two to three pieces while enjoying a good cup of tea until you'll be able to verify the quality! Enjoy and take good care.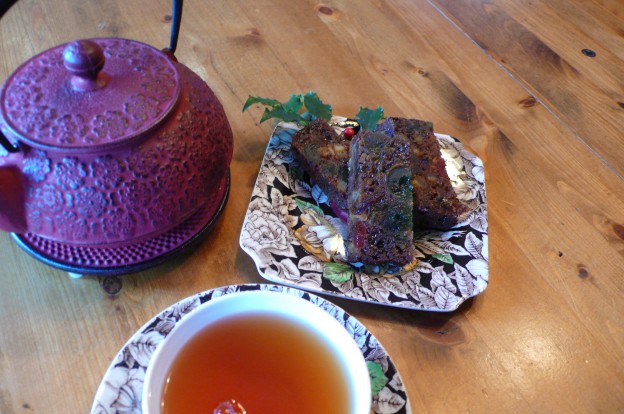 Dark Christmas Cake
1 lb

sticky raisins

2 cups

water

2 cups

white sugar

1 tsp

salt

1/2 lb

butter

2 tsp

nutmeg

1 tsp

cinnamon

1/2 tsp

cloves

2 cups

all purpose flour

1 1/2 tsp

baking soda

2

eggs

1 lb

mixed citrus peel

2 - 3 cups

glazed cherries

1 1/2 cups

walnuts
Cooking Directions
Mix raisins, water, sugar, butter, salt, nutmeg, cinnamon and cloves in medium saucepan and bring to a boil.
Stir and boil gently for five minutes, then turn off heat, cover and let stand at room temperature overnight.
Next morning, add remaining ingredients, mix well and let rise for 30 minutes.
Line 8 X 8 X 3.5 inch cake pan with parchment paper, lightly greasing pan first to hold parchment in place.
Place a small pan of water in oven and preheat oven to 275 degrees.
Bake cake for 3 - 4 hours, checking at 2 1/2 hours to see if center is firm.
Cake is done when center is firm but not too dry.
Let cool on rack for 1 hour then remove from pan and let cool completely.
Double wrap in plastic wrap to store.