Well, as someone once said, 'life happens when you make other plans'! So my blogging activity has been significantly impacted in the last month by my choosing to return full time to the workforce – great for me and once I'm used to not wearing lululemons every day, then my blogging will find its new rhythm. I decided a few weeks ago to stop feeling guilty about not blogging even once in December as I was busily baking and eating cookies and other goodies while at the same time interviewing and accepting a new job – but I had promised to post Fredericton Fudge and I didn't. So for all of you who've been cussing me for neglecting ALICC then here it is!
Fredericton Fudge is adapted from The Laura Secord Cookbook and is based on their recipe for Fredericton Walnut Toffee. For those of you who don't know where Fredericton, New Brunswick is, look it up. My beautiful hometown, perched on the banks of the stunning Saint John River and birthplace, if you trust Laura Secord, of a candy that tastes a bit like a Skor bar, but way better. And we call it Fredericton Fudge.
First of all, you need a day that looks like this: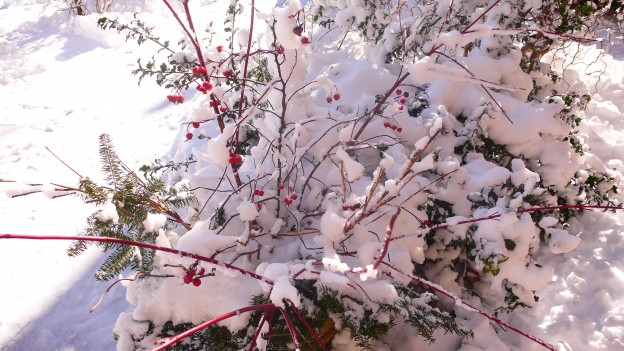 Or, one that looks like this: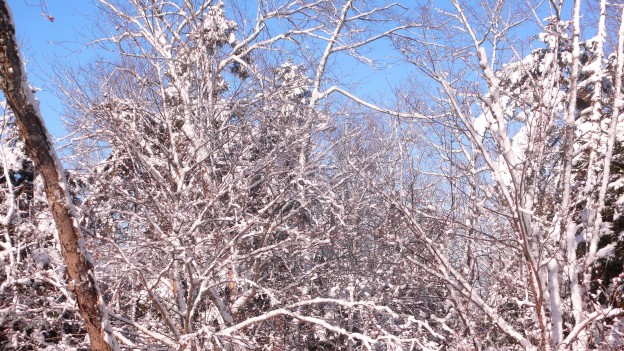 Snow is optional as are freezing temperatures, but in order to successfully make this delicious confection I've always found you need clear skies and a distinct lack of humidity. At least, I've never had success making it on a rainy day or in very humid weather.
Ingredients are straightforward: butter, brown sugar, chocolate and toasted pecans. That's it! I use disposable aluminum lasagne pans and reuse them a number of times. Start by buttering the pan and scattering a couple of handfuls of chopped pecans. I always toast the pecans first in a 350 degree oven for 7 – 8 minutes which really develops their flavour.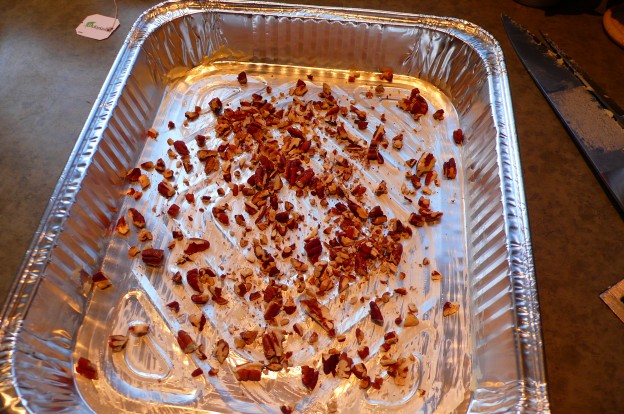 Next, ready the ingredients because once you start stirring the fudge there's no walking away until it's time to pour it in the pan. Take out a frying pan and melt the butter, adding the brown sugar when the butter is nearly melted. Timing matters, so when the butter and brown sugar are melted together turn the heat to medium or medium high because you want the mixture bubbling gently throughout the next 12 minutes. Start the timer and continue to stir.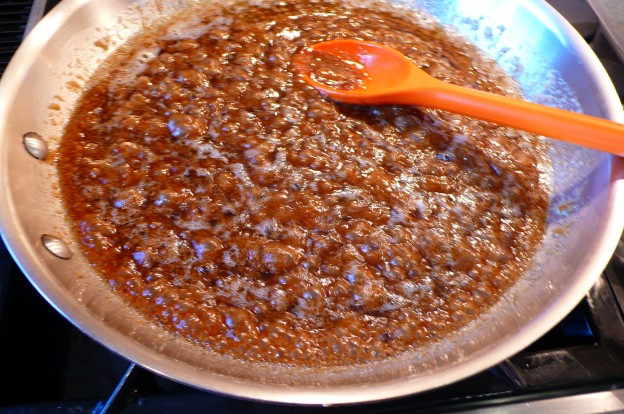 During the 12 minutes, the mixture will go from looking not so great to better to really pretty good. And if one batch doesn't quite come together, I've been know to make another.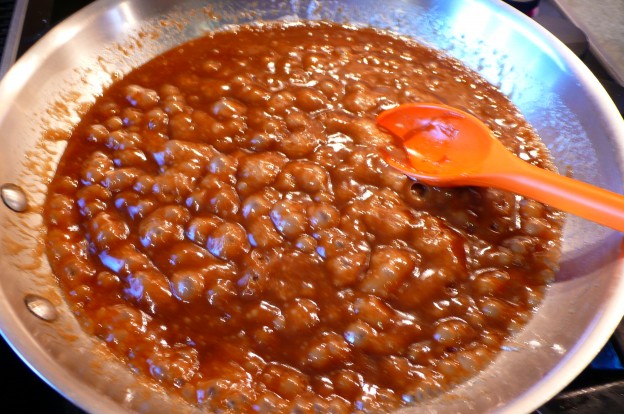 After cooking and stirring for 12 minutes, carefully pour the fudge over the chopped pecans in the prepared pan.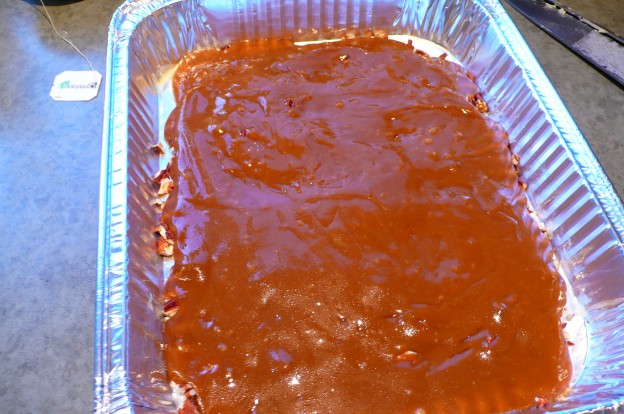 This fudge is looking a bit naked, so cover it with a blanket of dark chocolate chips or chopped chocolate and let the chocolate softten for a couple of minutes.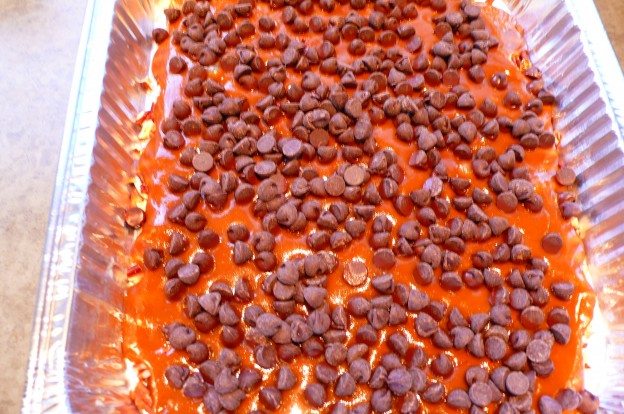 After a few minutes, the chocolate will have melted and you can spread it into a smooth layer, finishing the fudge by sprinkling more chopped pecans onto the top. Now comes the tough part – letting it cool and harden before you enjoy it so that you a) don't burn yourself eating hot fudge and b) practice self-restraint! Break into random pieces using a knife and enjoy – don't worry if the pieces are uneven, people will choose large or small, and any leftover crumbs are yummy topping ice cream, yogurt, you name it!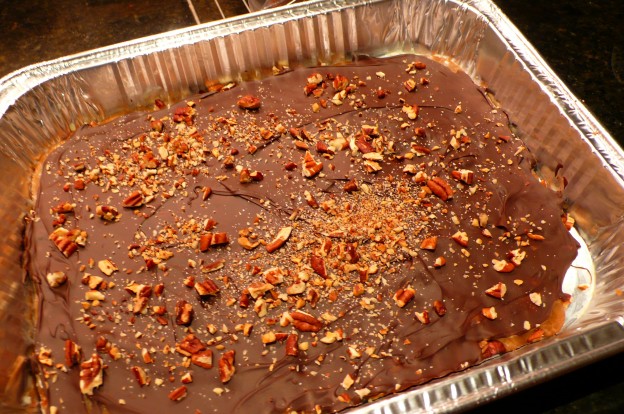 Fredericton Fudge
This recipe is adapted from the Laura Secord cookbook's recipe for Fredericton Walnut Toffee.
1 cup

butter

1 1/3 cups

brown sugar

1/2 cup (approx.)

toasted, chopped pecans

1 - 1/2 cups

dark chocolate chips
Cooking Directions
Use additional butter, softened, to butter a disposable aluminum foil lasagne pan.
Scatter half of the pecans over the bottom of the buttered pan.
In a heavy, metal frying pan, melt the butter over medium heat and add the brown sugar, stirring well to mix.
Raise heat to medium high and bring to boil, turn down slightly to maintain bubbling while stirring constantly.
Cook and stir for 12 minutes.
Pour hot fudge over pecans in prepared pan, pan will be very hot on bottom, you may want to place it on a trivet.
Sprinkle chocolate chips over hot fudge and let sit until softened, 2 - 3 minutes, then spread with a small knife or offset spatula.
Sprinkle remaining chopped pecans over chocolate, while chocolate is still soft, and let candy cool.
When cool and hardened, break candy into pieces with a knife.
Store at cool room temperature.